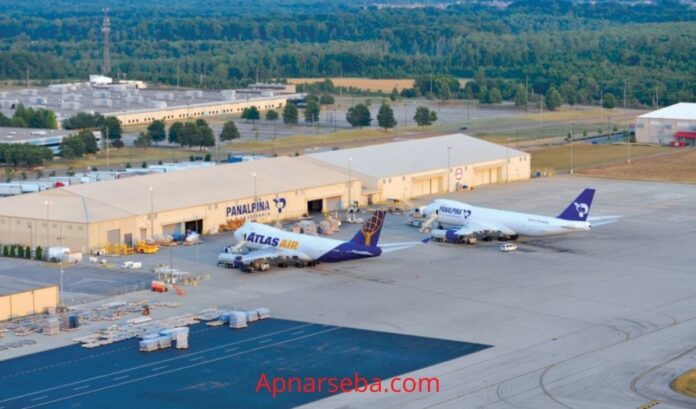 Huntsville International Airport
Huntsville International Airport (IATA: HSV, ICAO: KHSV, FAA ID: HSV) (Carl T. Jones Field) is a public airport ten miles southwest of Huntsville, Madison County, Alabama, USA.
The airport is part of the port of Huntsville (including the International Intermodal Center and Jetplex Industrial Park), and serves the Huntsville-Decatur Combined Statistical Area. Opened as Huntsville Jetport in October 1967, it was the third airport in Huntsville. Today it has 12 gates with restrooms, shops, restaurants, phones, and murals depicting aircraft and space exploration scenes. Above the ticketing area/lobby is Sheraton's four points, and adjacent to the terminal is a parking garage and opposite is the control tower and a golf course.
The airport's western runway, 12,600 feet (3,800 m), is the second-longest commercial runway in the southeastern United States, 400 feet (120 m) shorter than the longest runway at Miami International Airport. Due to its long runway and sophisticated snow removal and de-icing equipment, Huntsville is often used as a diversion airport from larger centers in the southeast, such as Atlanta.
The airport's "Fly Huntsville" Jing encourages passengers to leave Huntsville instead of driving to Birmingham or Nashville. An August 2009 report by the Bureau of Transportation Statistics for the first quarter of 2009 revealed that Huntsville passengers pay the highest fares on average in the United States. Compared to the previous year.
It is a primary commercial service airport for the National Plan of Integrated Airport Systems 2011-2015.
| | |
| --- | --- |
| Quick Information | |
| Name | Huntsville International Airport |
| Address | 1000 Glenn Hearn Blvd SW, Huntsville, AL 35824, United States |
| Status | Active |
| Country | United States |
| Type | Public |
| Owner | Huntsville / Madison County Airport Authority |
| Phone | |
| Code | HSV |
| Elevation | 192 m |
| Passengers | – |
| Aircraft operations | – |
| Lon | – |
| Serves | |
| Website | |
| Based aircraft | – |
| Facebook Link | https://www.facebook.com/HuntsvilleInternationalAirport/ |
| Twitter | https://twitter.com/flyhsv |
| Instagram | https://www.instagram.com/flyhsv/ |
| Hub for | Atlas Air |
Huntsville International Airport (HSV) is the largest commercial airport in North Alabama, serving more than 1.2 million passengers annually. HSV is known for its outstanding customer service, cutting-edge technology, and convenience throughout its 18-county service area.
HSV has non-stop services at ten destinations, including Atlanta, Charleston, Charlotte, Chicago, Dallas, Denver, Detroit, Houston, Miami (seasonal), New Orleans, Orlando, Tampa, and Washington DC.
The airport is fast and easy to navigate and is very convenient for all attractions and businesses located in North Alabama.
Huntsville International Airport Photos…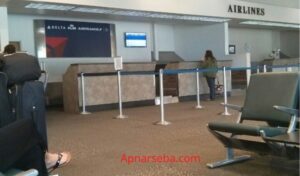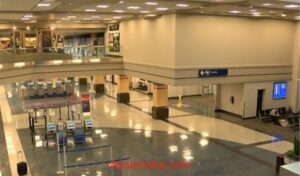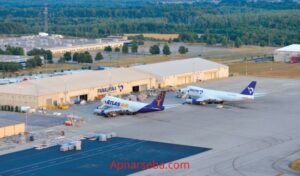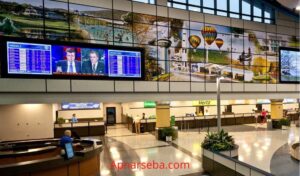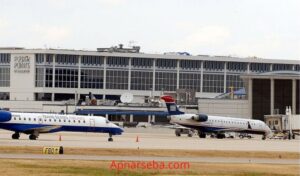 See More…