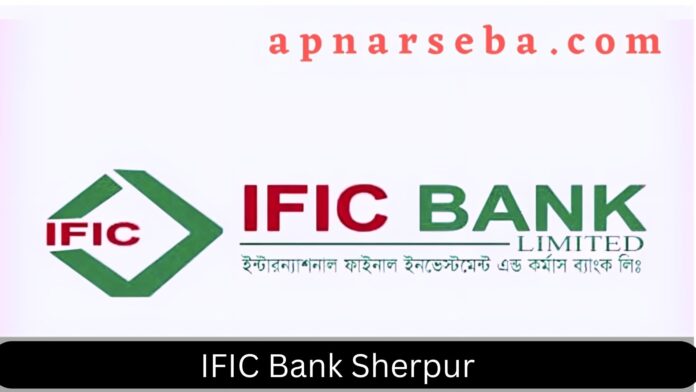 IFIC Bank Sherpur Location, Phone, SWIFT Code
IFIC Bank Sherpur
IFIC Bank Limited is a leading private commercial bank in Bangladesh, offering a range of financial products and services to its customers. The bank was established in 1976 as the International Finance and Investment Company Limited, and in 1983 it was transformed into a full-fledged commercial bank.
IFIC Bank's services include deposit accounts, loans, credit cards, foreign currency transactions, trade finance, and treasury services. The bank also offers Internet banking and mobile banking services, allowing customers to access their accounts from anywhere, anytime.
IFIC Bank has a network of branches and ATMs across the country, making it easy for customers to access its services. The bank has a strong focus on customer satisfaction and has implemented a number of initiatives to improve the quality of its services and increase customer loyalty.
In addition to its core banking operations, IFIC Bank is also involved in corporate social responsibility activities, such as supporting education, healthcare, and disaster relief. The bank has received several awards and accolades for its financial performance and corporate social responsibility efforts.
One of the key strengths of IFIC Bank is its experienced and dedicated workforce. The bank employs over 3,000 professionals, who are committed to providing high-quality services to customers. The bank also invests in the training and development of its employees, to ensure that they have the necessary skills and knowledge to perform their jobs effectively.
Another key strength of IFIC Bank is its strong corporate governance practices. The bank has a well-defined governance structure, with clear roles and responsibilities for its board of directors, management team, and other stakeholders. The bank also has a robust risk management framework in place, to identify, assess, and mitigate potential risks.
In terms of financial performance, IFIC Bank has consistently delivered strong results over the years. The bank has a strong balance sheet, with healthy levels of capital adequacy and liquidity. In 2020, despite the challenging economic conditions caused by the COVID-19 pandemic, IFIC Bank reported a net profit of BDT 2.18 billion, up from BDT 1.81 billion in the previous year.
Looking ahead, IFIC Bank is well positioned to capitalize on the growing demand for banking services in Bangladesh. The country's economy is expected to continue growing at a steady pace, driven by strong domestic demand and robust export growth. IFIC Bank's strong brand reputation, experienced workforce, and commitment to customer satisfaction make it a preferred choice for customers seeking high-quality banking services in Bangladesh.
IFIC Bank Sherpur
International Finance Invest and Commerce Bank Limited
Sherpur Branch
Ameen Plaza, Holding No. 18, Kharampur Road, Sherpur
IFICBDDH
Sherpur
12 November 2015
Sunday: 10:00 am – 4:00 pm
Monday: 10:00 am – 4:00 pm
Tuesday: 10:00 am – 4:00 pm
Wednesday: 10:00 am – 4:00 pm
Thursday: 10:00 am – 4:00 pm
Friday: Closed
Saturday: Closed
Sunday – Thursday (Except Holidays)
See More —